| | | |
| --- | --- | --- |
| " | YOU'RE too… YOU'RE too… YOU'RE too… YOU'RE too… YOU'RE TOO-YOU'RE TOO— YOU'RE TOO SLOW!—AHAHAHAHHAHHAAHAHHAHAH! | " |
| | ~ EXE upon changing into their true form | |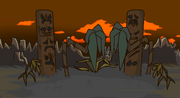 EXE was one of the many versions of Sonic.exe featured in the Friday Night Funkin Mod, Vs. Sonic.exe. They served as the antagonist for the songs "Faker" and "Black Sun".
Appearance
This version of the character is much like Classic Sonic, except for his darker skin and quills, blue arms, his shoes which lack buckles and soles, and his toothless grin. Speaking of his quills, they appear to be shaded black on the bottom despite BF and GF having no instance of this shading. He retains this trait during his transformation in Black Sun. His expression seems to be angry, despite his poses in Faker having no malicious tone to them.
Once he reveals his true form, EXE's skin becomes a pale white, his limbs are longer and contorted, and he grows a row of sharp, white teeth, and claws. Where his 'gloves' were supposed to be are now melded into his skin, same going for his shoes. His eyes are either bloodshot black or his pupils have dilated to cover his entire iris (his eyes were confirmed to have melted into his eyeholes). EXE's fur also seems to be ripped in some places as a result of his limbs growing unnaturally long, revealing the melded gloves, skin, and shoes a little more.
He also appears to be able to manipulate his body at will, as not counting his transformation at the end of Faker, he can at minimum, change his teeth, & skin color at will (As seen in his Black Sun down pose for the former, where his teeth disappears, & the game over screen for both cases, where his teeth is symmetrical and his skin is back to 'normal', however, this can just be shading).
Disturbingly, looking at his transformation spritesheet, some of them has his entire head turn pitch black, has various body parts unnaturally contort for a brief moment, and his head in one of the sprites turns back to his head in Faker (Bear in mind, that particular sprite still has the rest of his body still freakishly transforming.)
Minus Hottler EXE's first phase depicts him as an angel, anthropromorphic hedgehog being staring at the player in his idle, consisting of indigo-bluish fur, a golden halo at the top of his head, a white himation covering his torso, and brown shoes with white socks, He holds a vintage microphone on his right hand at all times, a bag of money on his left hand for the pose of the same direction, and a symbol of love for his right pose. His eyes also turn into an Earth-like image hovering both of his eyes for his up pose.
After the cutscene where he tranforms into his 2nd phase, he is then depicted as a demon, where his middle, and low body covered in black fur. He holds a red pitchfork with spikey ends and tops in his left hand, what appears to bea sliced apple on his right hand with his anformentioned hand changing into a green snake's head for his left, and right poses, both of his hands are also set ablaze. He has dark brown hooves for feet.
Act 1 (Faker)
Upon arrival, Boyfriend and Girlfriend meet an individual who looks very much like Sonic-though slightly off. The individual challenges them. At first the match seems rather friendly compared to other matches in the mod. If successfully beaten, the player is rewarded with a disturbing cutscene of the Sonic-like figure changing into their true form, leading to a second song, only accessible after beating Faker.
Act 2 (Black Sun)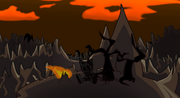 After Faker and the wildly unsettling cutscene that follows, EXE now shows their true form-and adds to the difficulty as well. The melodies and gameplay take a much more speedy and upsetting turn, with new mechanics as well, such as a almost never-refilling health bar and a consistent health drain. Beating the song rewards no cutscene nor context, and only sends you to the main menu.
Audio
Known Fanmade Content Related To EXE
Trivia
Due to how similar Sonic and EXE look in the first song, along with the fact that said song is called "Faker", a lot of people have commonly referred to EXE as Faker.exe or simply Faker.
EXE was created by the mod's former Director, Revie.
The game over screen for "Black Sun" starts out simply as a static image of EXE's face, staring directly into the camera. After waiting 13 seconds, a jumpscare plays, and the game will force shutdown. This "force shutdown trait" is shared with only one other song in the game, that being Endless.
Due to controversy surrounding EXE's creator, Revie, it was announced that EXE would be removed from the mod.

Prior to this controversy coming out, EXE was planned to have his own game, which would've featured five playable characters; Tails, Knuckles, Amy, Metal Sonic and Robotnik, each tied to a particular human victim.

The soundtrack for this game (with one song, "Confronting Yourself", being the main leitmotif for Faker) was fully complete prior to the controversy.

At one point of "Faker", EXE and Boyfriend will be heard singing "Hill" from Sonic.EXE: The Game. They will sing it after a minute has gone by of the song.
An older version of Black Sun is slower, though has the leitmotif of Sally.EXE's original track, Epitome of Love/Act 9, playing at some point in the track.
Minus Hottler EXE's 1st phase idle references his 1st phase danger icon.

Some of EXE's 2nd phase characteristics references highlights from the Garden of Eden from the Book of Genesis, such as banished and revealing his true form, like the snake in the Tree of Knowledge.
Gallery