✔

This article's content is marked as Mature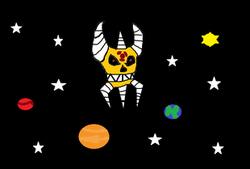 Nekrozoth
found something very brutal for those with a weak heart. The page Generic Dark Lord contains mature content that may include coarse language, sexual references, and/or graphic images which may be disturbing to some. Mature pages are recommended for those who are 18 years of age and older.
If you're 18 years or older or are comfortable with graphic material, you are free to view this page. Otherwise, you should close this page and
view another page
.
"
𝐖𝐡𝐚𝐭 𝐚 𝐛𝐞𝐚𝐮𝐭𝐢𝐟𝐮𝐥 𝐠𝐞𝐧𝐞𝐫𝐢𝐜 𝐝𝐚𝐲 𝐭𝐨 𝐝𝐞𝐬𝐭𝐫𝐨𝐲 𝐠𝐞𝐧𝐞𝐫𝐢𝐜 𝐮𝐧𝐢𝐯𝐞𝐫𝐬𝐞𝐬, 𝐝𝐨 𝐧𝐨𝐭 𝐲𝐨𝐮 𝐭𝐡𝐢𝐧𝐤?
"
~ G.D Lord to Some Random Minion.
Generic Dark Lord, also known as G.D Lord or 𝕲𝖊𝖓𝖊𝖗𝖎𝖈, is a very evil and dangerous villain because he is the embodiment of evil, destroyed universes and did a lot of bullshit. He is actually a satire of all these generic demonic villains that fill this wiki. He is voiced by Mark Berry, who also voiced Ganon from Zelda: The Wand of Gamelon. He is also the main protagonist in The Rise of Generic Dark Lord.
𝕲𝖊𝖓𝖊𝖗𝖎𝖈 History
𝕲𝖊𝖓𝖊𝖗𝖎𝖈 Past
He was the son of a generic prostitute and a generic alcoholic father, and was always beaten by them; he was also bullied at school for being a Generic Punky Edgelord. One day, he got tired of so much generic abuse and generically killed himself, ended up in generic hell and murdered the generic devil, robbing the powers of generic Satan. Since then he has ruled everyone in generic hell and has begun to destroy generic multiverses and cause generic, random destruction.
𝕲𝖊𝖓𝖊𝖗𝖎𝖈 Today
𝕲𝖊𝖓𝖊𝖗𝖎𝖈 continues to cause generic and random destruction, and since the omniverse is infinite, it will probably never stop. He lives in a castle made of pure darkness in the center of hell, where he keeps his 1,543,123 wives and concubines. He also constantly goes to a bar of failed villains, where he gets drunk and complains about how generic he is. G.D Lord also knew his generic rule 63 version. They tried to kill themselves at first, but as both were immortal, they ended up as friends.
He also clashed with Dorito Man, who intended to turn Generic Hell into nacho cheese. The battle between the two lasted an extremely generic time, so Dorito Man realized that he could't kill G.D Lord because he was generically invulnerable. Dorito Man then decided to cast a curse on 𝕲𝖊𝖓𝖊𝖗𝖎𝖈 that made him listen O Fortuna every time he tried to speak.
𝕲𝖊𝖓𝖊𝖗𝖎𝖈 Appearence
Generic Dark Lord wears an red armor with a golden skull in the center, a burgundy cape, has golden horns, and bright red eyes. Oh, and a dark sword made with the tears and the blood of the damned.
𝕲𝖊𝖓𝖊𝖗𝖎𝖈 Personality
He kills without remorse and mercy, including his own lackeys, and children as well. He is very evil. Even the devil admitted that Generic Dark Lord is more evil than he is. 𝕲𝖊𝖓𝖊𝖗𝖎𝖈 also has a colossal harem in his castle, but doesn't love any of his women. He is surely the most evil form of life that has ever set foot on the face of the Omniverse.
𝕲𝖊𝖓𝖊𝖗𝖎𝖈 Powers
Soul Absorption: Can absorb the soul of whom he kills. Along with the powers and essence of the victim.
Hell-Fire Manipulation: G.D Lord can control and create the fire of Hell from nothing.
Mind control: He can control the minds of stupid people.
Superhuman Strength: He is strong enough to destroy a mountain with a single punch.
Regeneration: Even if he have all the atoms of him body destroyed, G.D Lord can regenerate from nothing.
Necrokinesis: G.D Lord can resurrect any corpse as a zombie and use it as a soldier.
Black Magic: Can travel all over Omniverse, open portals and summon spells and curses.
𝕲𝖊𝖓𝖊𝖗𝖎𝖈 Weakness
The only way to kill the Generic Dark Lord is using the White Sword, made with tears of joy and the goodness of angels, but which can only be used by those pure in heart.
𝕲𝖊𝖓𝖊𝖗𝖎𝖈 Theme (that plays every damn time he shows up)
𝕲𝖊𝖓𝖊𝖗𝖎𝖈 Dark Lord victims
Satan.
57% of the demons in hell, what's left joined him.
All living beings from his home universe, including his father, mother and Justin Bieber.
All living beings from an entire multiverse.
His own alternative versions from other universes, for he was afraid of being overthrown by them.
All inhabitants of the first, second, third and nineteenth dimension.
All alternative versions of Justin Bieber.
All inhabitants of Pastamonsters multiverse. Including Aton and Zalgo.
All inhabitants of Punkettes's multiverse, including Pepper Satanica.
WeirdWojak, which ironically is his creator.
You.
All your characters.
the list goes on and on...
𝕲𝖊𝖓𝖊𝖗𝖎𝖈 Statistics
Generic Dark Lord's statistics
𝕲𝖊𝖓𝖊𝖗𝖎𝖈 Quotes
| | | |
| --- | --- | --- |
| " | 𝙂𝙀𝙉𝙀𝙍𝙄𝘾 𝘿𝘼𝙍𝙆 𝙇𝙊𝙍𝘿 𝙄𝙎 𝘾𝙃𝘼𝙊𝙎, 𝙂𝙀𝙉𝙀𝙍𝙄𝘾 𝘿𝘼𝙍𝙆 𝙇𝙊𝙍𝘿 𝙄𝙎 𝘿𝙀𝘼𝙏𝙃, 𝙂𝙀𝙉𝙀𝙍𝙄𝘾 𝘿𝘼𝙍𝙆 𝙇𝙊𝙍𝘿 𝙄𝙎 𝙀𝙑𝙀𝙍𝙔𝙏𝙃𝙄𝙉𝙂! | " |
"
G.D Lord: 𝙍𝘼𝙄𝙉 𝙁𝙄𝙍𝙀!

Some Random Minion: But sire, our troops!

G.D Lord: 𝐒𝐨𝐦𝐞 𝐑𝐚𝐧𝐝𝐨𝐦 𝐌𝐢𝐧𝐢𝐨𝐧, 𝐭𝐨 𝐫𝐞𝐚𝐜𝐡 𝐨𝐮𝐫 𝐠𝐨𝐚𝐥𝐬 𝐰𝐞 𝐡𝐚𝐯𝐞 𝐭𝐨 𝐦𝐚𝐤𝐞 𝐬𝐚𝐜𝐫𝐢𝐟𝐢𝐜𝐞𝐬. 𝐘𝐨𝐮 𝐰𝐢𝐥𝐥 𝐧𝐞𝐯𝐞𝐫 𝐛𝐞 𝐬𝐨𝐦𝐞𝐨𝐧𝐞 𝐮𝐧𝐥𝐞𝐬𝐬 𝐲𝐨𝐮 𝐠𝐢𝐯𝐞 𝐮𝐩 𝐜𝐞𝐫𝐭𝐚𝐢𝐧 𝐭𝐡𝐢𝐧𝐠𝐬.

Some Random Minion: Okay.

"
| | | |
| --- | --- | --- |
| " | 𝐌𝐚𝐧, 𝐭𝐡𝐢𝐬 𝐛𝐮𝐬𝐢𝐧𝐞𝐬𝐬 𝐨𝐟 𝐛𝐞𝐢𝐧𝐠 𝐢𝐧𝐝𝐞𝐬𝐭𝐫𝐮𝐜𝐭𝐢𝐛𝐥𝐞 𝐬𝐮𝐜𝐤𝐬! 𝐍𝐨𝐭𝐡𝐢𝐧𝐠 𝐞𝐥𝐬𝐞 𝐡𝐮𝐫𝐭𝐬 𝐦𝐞, 𝐧𝐨𝐭𝐡𝐢𝐧𝐠 𝐞𝐥𝐬𝐞 𝐢𝐬 𝐚 𝐜𝐡𝐚𝐥𝐥𝐞𝐧𝐠𝐞 𝐟𝐨𝐫 𝐦𝐞! | " |
| | ~ G.D Lord to his best friend Evil Skeleton. | |
| | | |
| --- | --- | --- |
| " | 𝐘𝐨𝐮 𝐜𝐚𝐧'𝐭 𝐝𝐞𝐟𝐞𝐚𝐭 𝐦𝐞, 𝐛𝐞𝐜𝐚𝐮𝐬𝐞 𝐢'𝐦 𝐭𝐡𝐞 𝐥𝐨𝐫𝐝 𝐨𝐟 𝐞𝐯𝐢𝐥 𝐚𝐧𝐝... | " |
| | ~ Generic Dark Lord | |
| | | |
| --- | --- | --- |
| " | 𝐓𝐡𝐞 𝐢𝐝𝐢𝐨𝐭 𝐨𝐟 Nekrozoth 𝐭𝐡𝐢𝐧𝐤𝐬 𝐰𝐞'𝐫𝐞 𝐚𝐥𝐥 𝐡𝐢𝐬 𝐩𝐮𝐩𝐩𝐞𝐭𝐬, 𝐝𝐨𝐞𝐬𝐧'𝐭 𝐡𝐞? 𝐁𝐮𝐭 𝐭𝐡𝐞 𝐛𝐚𝐬𝐭𝐚𝐫𝐝 𝐰𝐚𝐬 𝐰𝐫𝐨𝐧𝐠! 𝐈 𝐚𝐦 𝐧𝐨𝐭 𝐡𝐢𝐬 𝐩𝐮𝐩𝐩𝐞𝐭, 𝐈 𝐀𝐌 𝐀 𝐆𝐎𝐃. 𝐀𝐍𝐃 𝐓𝐇𝐈𝐒 𝐒𝐄𝐗𝐘 𝐆𝐎𝐃 𝐖𝐈𝐋𝐋 𝐃𝐄𝐒𝐓𝐑𝐎𝐘 𝐓𝐇𝐄 𝐆𝐄𝐍𝐄𝐑𝐈𝐂 𝐎𝐌𝐍𝐈𝐕𝐄𝐑𝐒𝐄 𝐁𝐄𝐅𝐎𝐑𝐄 𝐇𝐈𝐌... | " |
| | ~ G.D Lord talking about Nekrozoth. | |
Community content is available under
CC-BY-SA
unless otherwise noted.