This article's content is marked as Mature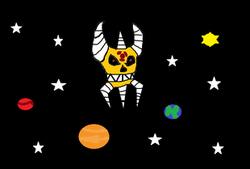 Nekrozoth
found something very brutal for those with a weak heart. The page Shrek (SuperMarioLogan) contains mature content that may include coarse language, sexual references, and/or graphic images which may be disturbing to some. Mature pages are recommended for those who are 18 years of age and older.
If you're 18 years or older or are comfortable with graphic material, you are free to view this page. Otherwise, you should close this page and
view another page
.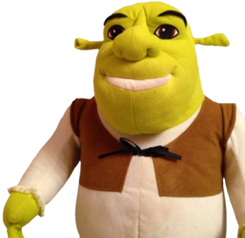 Shrek is a protagonist and sometimes an antagonist in SuperMarioLogan. He is one of Mario's friends.
He is voiced by Logan's older brother, Lance Thirtyacre, who also voiced Black Yoshi, Goodman and Doofy the Dragon.
Personality
Shrek is a disgusting ogre who likes to eat Cheesecake and take craps. 
Shrek can also get angry when he doesn't get food or when someone disturbs him. This has happened when Skittles eats Shrek's food from McDonald's and when Skittles disturbs Shrek when he is eating his cheesecake in his room.
Shrek is also shown to be cruel to just about everyone in some videos since he abused Mario just because he said that Shrek wasn't part of his family, shoved a corn-dog up Mario's butt, forced Mario to drink his diarrhea because Mario wouldn't give him toilet paper, murdered Toad multiple times, threw Toad out of the house, occasionally makes Toad eat his crap and made a hurtful and mean rap against Toad with Black Yoshi.
He also has good intentions such as trying to save Black Yoshi from Skittles attacking him and eating him in The Bird and  he tells his son, Shrek Junior to stop playing with dangerous weapons in Baby Shrek 1.
Information
Shrek is a fat ogre who eats cheesecake and lives with Mario. Just like his film counterpart, he has a Scottish accent.
He mostly calls everyone Donkey expect for Shrek Junior and Woody.
He calls Chef Pee Pee a lot of names. In Shrek The Babysitter!, Shrek acted like himself from the first Shrek film.
Shrek also appeared in A Project Guy.
He also appears in Puppet Pals videos.
Villainous Acts
He beats up Mario with a corn dog and shoves it up his butt.
He steals a towel from a bathroom.
He stole Mario's car and bank account along with Black Yoshi, Big Red, Speedy, Blue, Taliban, Tony and Woody.
He kept beating up Toad and killed him just because he ate his cheesecake.
He refuses to do healthy things.
He made Mario eat his poop
Trivia
In an SML video, No Weapons Allowed, it was confirmed that his full name is Shrek Safe Cheesecake III.
Community content is available under
CC-BY-SA
unless otherwise noted.