✓
This Villain was Featured in January 2022.

✓
This Villain was proposed and approved by Villains Fanon Wiki's Complete Monster Proposals Thread. Any act of removing this villain from the category without a Removal Proposal shall be considered vandalism (or a futile "heroic" attempt of redemption) and the user will have high chances of being terminated blocked. You cannot make said Removal Proposal without permission from an admin first.
Additional Notice: This template is meant for admin maintenance only. Users who misuse the template will be blocked for a week minimum.
This article's content is marked as Mature
Needlemouse found something very brutal for those with a weak heart. The page THOUGHT (SleepingGuy's Slenderverse) contains mature content that may include coarse language, sexual references, and/or graphic images which may be disturbing to some. Mature pages are recommended for those who are 18 years of age and older.
If you're 18 years or older or are comfortable with graphic material, you are free to view this page. Otherwise, you should close this page and view another page.
"Nekrozoth has seized this page as his sovereignty."
This page, THOUGHT (SleepingGuy's Slenderverse), was written by SleepingGuy. Any original work, images, etc. presented here is therefore theirs under the CC BY-NC-ND license. Please do not add onto, delete, or copy anything on this page without the original author's permission. Thank you.
| | | |
| --- | --- | --- |
| " | Oh, did I forget to introduce myself? Heh, what a shame. "My name is Bart" No, I am humanity's worst THOUGHT.. Allow me to explain what's going on here. "You've always been my best friend ever since the beginning!" No, I'm not! You've been a little pain in my ass for god knows how long! You had a simple task to do; ERADICATE THE SLENDERMAN... "AND YOU LEFT ME BEHIND!!" No, you left him behind! You call yourself a "friend"? You couldn't even save that one guy! Now look at how things have turned out! He's my body! He belongs to me! "... Look at the devastation I brought upon myself!" No, look at the devastation I brought onto himself. Oh, please? Kill me? Not even the Slenderman could handle me! | " |
| | ~ THOUGHT's most famous quote, making a long rant towards Smith Jones, expressing his hate and teasing him for leaving Bart Montgomery behind. | |
THOUGHT, also known as Humanity's worst THOUGHT, is the main antagonist of SleepingGuy's fanmade slenderverse series, serving as the overarching antagonist of seasons 2 & 4, the central antagonist of season 6, the main antagonist of season 8 and the secondary antagonist of season 10.
He is the sadistic, bloodthirsty minion of Slenderman and a lovecraftian horror who seeks to cause harm onto weaker beings via possession. In season 4, it was revealed that he is indeed the mind of HABIT, whom he aided in his destruction whilst the two were fused.
He also appears as a playable DLC character in The Silent Night under the name of The Possessor, and returns as the overarching antagonist of the non-canon black-and-white spinoff video game Adrenaline for a God.
THOUGHT's voice was presented by XOBITES.
History
Origins
The origins of THOUGHT remain a mystery, as the only thing we know is that THOUGHT is indeed the brother + mind of HABIT. The entire case revolving around THOUGHT is only left up for interpritation, although some fan-stories may exist.
Season 2
THOUGHT first made his debut in episode 10 - season 2 of Rememberence inside of an abandoned warehouse whilst possessing Bart (though how he got to Bart remains a mystery). All of a sudden, Jason Hemwig accidentally knocks over something which caused THOUGHT to turn around. Luckily, Smith Jones and Jason Hemwig quickly hid before he could hear them. The two then agree to split up, only for Jason's clumsiness to return once more and accidentally prompts THOUGHT to turn around. Luckily, THOUGHT trips over a wire and gets tangled up in it, which allows Smith and Jason to escape. However, a false sense of security quickly happens as THOUGHT incapacitates Smith and tells him "Goodnight" before dragging him away.
Season 3
Although mentioned by Jason about Smith's kidnapping, he never fully appeared in season 3.
Season 4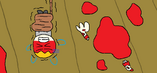 In the first episode of season 4, THOUGHT is later seen face-to-face an upside down Smith Jones, hanging by rope in an unknown building. THOUGHT proceeds to laugh at Smith and tells him that his friends were just "useless" and were unable to save him. He then shows Smith a victim tied up to the floor, in which THOUGHT proceeds to taunt the victim before driving a knife down his forehead, ending at the tounge. After he finishes killing the victim, he proceeds to introduce himself, all while ranting to (and teasing) Smith.
THOUGHT then shows Smith some more tortured victims as he mentions that Smith will be apart of his collection. However, Bart Montgomery, gaining conciousness, quickly unties Smith and tells him to leave through the exit. As Smith escapes, THOUGHT quickly takes control of Bart again and proceeds to threaten Smith that if he doesn't come back, he would kill his newborn baby brother next. Smith, having none of it, quickly flees from THOUGHT and runs back to the Hideout.
At the end of season 4, THOUGHT leaves a message saying "DO YOU SEE HIM?" before jumpscaring the viewer to make it seem as THOUGHT was attacking them.
Season 6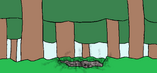 In episode 8 of season 6, THOUGHT appears again (this time at the Hideout) after possessing Bart (after the latter managed to break free of THOUGHT's control for some time) once again and proceeds to call in a few allies (Slenderman and others) to destroy the Hideout. After seeing that the others could not even do that single task, he proceeds to head to the boiler and blow up the Hideout, temporialy killing slenderman, permanently killing his allies and breaking Jason's legs.
Season 7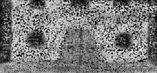 Only flashbacks and flashing images of THOUGHT appear, and the only slight mention of THOUGHT is when he saw his newborn baby brother dead and massively mutilated on the floor. (a sign that THOUGHT obviously killed the brother)
Season 8
THOUGHT encounters Smith and his crew once again during episode 10. Smith, not fooling for his deception, calls him out on his strategy on simply making them believe that Bart was trying to kill them, which was in fact correct. In one final attempt to kill Smith, Jason later appears and stabs THOUGHT in the chest, to which THOUGHT ends up shooting Jason in the forehead, presumably killing THOUGHT and leaving Jason & Bart dead for some time.
The two were later revived by an unknown force however, and it's presumed that THOUGHT may be dead. Though this has yet to be confirmed.
Season 10
THOUGHT appears in the third episode of season 10, this time accompanied by Oddity. THOUGHT, as usual, possesses Bart Montgomery yet again and forces him to leap out of a window in Smith Jones' house. THOUGHT then begins to bang on the door, forcing Smith to open the door in a panic. Smith immediately remembers the appearance of Bart as THOUGHT himself; inhabiting the body of Bart.
THOUGHT explains that he never really died, but he left Bart's body after he couldn't take over his functions. And now that Bart had been revived once again; he could now take over his functions. THOUGHT then starts to taunt Smith once again for trying his best to save Bart over and over from his grasp.
Suddenly, THOUGHT pauses for a bit before asking if he could get something, to which Smith disagrees. This doesn't stop THOUGHT however, as he simply shrugs that off before "leaving". That "something" would later turn out to be Oddity, as Oddity slashes at Smith before simply knocking him to the ground. THOUGHT then replies by saying that he "just needed to find his 'assisstant'" before berating Oddity for trying to be as destructive as him, even outright saying that he'd "never be like him".
In the fourth episode, THOUGHT heads towards the dining room where Jason Hemwig is sitting. THOUGHT recognized him as the person that temporiarly killed his host and proceeded to throw an empty glass cup at Jason's head. After Jason quickly recovered, THOUGHT explains that he is trying to find the rest of Smith's crew with Oddity. After Jason refused to give their locations, THOUGHT begins to taunt Jason, talking about how much of a suck-up he was for his friends.
After a long period of taunting, THOUGHT struck Jason's forehead, causing him to fall unconscious. THOUGHT then starts speaking to himself, about how he will have alot of plans for Jason once the others are found.
At the end of episode 9, THOUGHT confronts Frank, who had become heavily weakened. After a while, THOUGHT ends up making it short for Frank's life by stomping on his head, before killing Jason Hemwig once again, leaving to another revival. THOUGHT then dons the name of "the Eye" and seeks out Smith and his crew once again.
Season 11
THOUGHT appears as a minor yet pivotal antagonist of Season 11, where he waits impatiently for Smith's crew to arrive, groaning about how boring it is to wait for the right moment in the far distance. As Smith Jones and his group climb over the walls of Desire Lake Forest, THOUGHT recognizes Jason Hemwig first, calling him a coward before setting up a "game", where the group is set at the far distance of the forest and have to try and get out. While the team runs fast, the same cannot be said for Jason, who ends up nearly out of breath, with THOUGHT catching onto him.
Despite this, Jason runs as fast as he can to avoid certain death, until a tree summoned by Geminald falls right on to his leg, crushing it, and giving THOUGHT the chance to devour it. THOUGHT then attempts to climb over the tree only for Smith to fall back and carry Jason during the sequence, only stopping when the gate is blocked off by the Fog. Geminald then comes into slight view, and with a click of his fingers, he sends all but Smith out of Desire Lake Forest to deal with him once and for all.
THOUGHT is last seen at the climax for Season 11, where he is seen observing Smith at a far distance after becoming the Sanctum. THOUGHT chuckles to himself, before proclaiming that Smith had just "unleashed a newer chaos onto the world", in another attempt to secretly gaslight him, before teleporting away.
The Silent Night
Under the name of The Possessor, THOUGHT returns as a playable killer in The Silent Night, for the Worst THOUGHT DLC pack, which included Smith Jones as the DLC survivor, and the Possessor as the DLC killer.
He appears exactly the same as his original self, with the exception being that he can paralyze nearby survivors to bring to the Power. He also possesses alot of abilities, such as Throwing blades, Shadow Bomb (similar to the Shadow and teleportation. It's not until we reach his Final Fatality that we know exactly why he lives up to his name.
His final fatality involves holding the survivor up and draining the conciousness out of the being. He then proceeds to swap bodies with the previous host and use it to trick other survivors.
Appearance
THOUGHT's real form is never seen and is left up for interpritation, nor can it be comprehended by human minds. Although when he possesses Bart Montgomery, he suddenly manipulates the former's mind and turns him into a more darker being.
His appearance varies on whoever gets overTHOUGHT by him, but when he overTHOUGHT's Bart, he seems to have altered his appearance to a sinister glare, with a sadistic grin on his face. This may be due to him making his host(s) "healthy". He is often seen with a certain turquoise distortion when he shows up on camera.
In the non-canon spinoff black-and-white video game Adrenaline for a God, THOUGHT takes on the exact same appearance as last time but with a few differences. His turquoise distortion is now gone, his eyes are now pure white and he seems to be wearing a hoodie. THOUGHT even appears to mostly represent/foreshadow his true form, as he also appears to be donning goat-like horns and arrow-like tendrils.
Some sketches of THOUGHT shows him in a much more disturbing form, although all sketches are different.
Personality
| | | |
| --- | --- | --- |
| " | Oh, please? Kill me? Not even the slenderman could handle me! | " |
| | ~ THOUGHT's arrogance. | |
THOUGHT is a heavily sadistic and bloodthirsty being who takes pleasure in devouring, killing and torturing victims, even more than HABIT does normally. To him, torturing his victims is as natural for him as living. He often likes to belittle others to the point that he sees them as stepping stones to his goals, making him a bully.
Similar to his 'brother', he can also be seen as a coward, having taken the body of a weaker being rather than one with a strong will or stronger/equal power, such as the Slenderman. Despite this, he improves his host's body and uses it to cause destruction, even blowing up the Hideout at a certain point.
THOUGHT is also the twisted mind of HABIT (and by extent, Bowserbub) himself. However, he still shows a clear moral agency and shows a huge ammount of sadism in his actions. If you could guess, THOUGHT really does live up to his name.
While he did show to care for Slenderman at first, this was only pragmatic, as he revealed in his rant that he wanted Smith to kill Slenderman by finishing the Ritual of Banishment. One of THOUGHT's most biggest weaknesses though is his arrogance, as his last words were him remembering the past attempts of failing to kill Smith Jones and having scoffed at the fact that he could ever be defeated.
After some time to think about it, the creator had stated that THOUGHT's prescense can be hateable at times, but also "laughably evil" as well (a term used for villains who are funny to the audience, but is shown to be taken seriously in-universe). This often reffers to his speech before driving a knife down a victim's skull, and even when he is doing his infamous rant towards Smith Jones. He's also proven himself to be very petty, having only left his allies to die and had released Avarus just so he can anger Slenderman.
Relationships
Slenderman (Former ally/enemy) = The relationship between THOUGHT and the Slenderman is rather toxic and/or pragmatic, as the only reason that he aided the Slenderman was because of pragmatic circumstances. THOUGHT has eventually shown distaste towards the Slenderman in some dialogue, where he mentions that he wanted Slenderman to be eradicated. THOUGHT also demonstrates that he has no qualms on leaving him to die after he blew up the hideout. This act was also shown to be one which none had ever done before.
HABIT ('Ally') = THOUGHT and HABIT's relationship is a mystery to be solved. THOUGHT is the mind of HABIT himself, but it seems that he holds no care over his fellow "brother" from what we can see, even leaving him to die in the Hideout.

Oddity

('Ally') = Oddity seems to be extremely loyal to THOUGHT and is willing to do any objective he is given, as seen in the trailer for season 10. As revealed, THOUGHT treats Oddity like a dog, and often calls him a 'good boy'. And whilst he would often gift him, it was only to manipulate Oddity. THOUGHT also seems to have the nerves to berate Oddity when things aren't going his way, as seen in episode 3 of season 10.
Frank (Cultist) = THOUGHT and Frank are rarely seen together, if at all, but it would appear that Frank is on good terms with THOUGHT. Frank also seems to have little-to-no tolerance for THOUGHT's beration, often ignoring him and/or paficying THOUGHT. It would appear that their relationship is rather toxic in that matter.

Norman Hughman

(Unconfirmed) - Whilst the relationship is unknown, they both have similar traits and are theorized to know each other. Though this is unconfirmed.
Quotes
Rememberence:
| | | |
| --- | --- | --- |
| " | Huh? Who's there?! I swore I heard someone! "I promise I won't hurt you! I'm your pal; Bart!". | " |
| | ~ THOUGHT's introduction. | |
| | | |
| --- | --- | --- |
| " | I knew there was someone hiding nearby! | " |
| | ~ THOUGHT after catching Smith and the crew. | |
| | | |
| --- | --- | --- |
| " | "I left my friends to die?" No, no, I left his friends to die. | " |
| | ~ THOUGHT admitting what he did when he was inside Bart. | |
| | | |
| --- | --- | --- |
| " | Sh*t!.. Make another move and I'll... I'll eat your little baby brother here! Is it really worth it? You come back here now, and I'll spare the little sh*t, but if you dare to leave him behind, don't think that I'd be more than willing to kill him. Oi! You got something in your ears? | " |
| | ~ THOUGHT threatening to devour Smith Jone's baby brother. | |
| | | |
| --- | --- | --- |
| " | Do you see him? | " |
| | ~ THOUGHT's message at the end of season 4. | |
| | | |
| --- | --- | --- |
| " | How's it feel? Being left to die like this? Is it painful? No? I have my ways of making you squeal; squealing like a pig! | " |
| | ~ THOUGHT to a victim before driving a knife down the victim's forehead. | |
| | | |
| --- | --- | --- |
| " | Strange, you're not the delivery man. | " |
| | ~ THOUGHT's "laughable" side. | |
"
THOUGHT: "End of the line, fellas!"
Smith: "Sh*t!"
THOUGHT: "Impressive... I thought you had more courage than just... Running away! But the good news is? [THOUGHT aims a pistol at Smith's forehead] I finally get my revenge! My sweet, sweet revenge! "Remember the times I tried to kill you?" No, do you remember the times he tried killed you? It was all him! How can you call him your friend if he tried to kill you?!"
Smith: "No... You tried to kill us... You're our worst THOUGHT, after all! You're making him do this!"
THOUGHT: "You were there, Smith. You saw. Now, allow him to finish the job and-"
"
~ THOUGHT's last words to Smith and his crew before the former gets incapacitated by Jason Hemwig.
| | | |
| --- | --- | --- |
| " | Stupid animal... Oddity! Stop! SIT!! Listen to me very precisely, you salient b*tch; you dare to take my crown, there will be SEVERE consequences for your actions. F*cking mutt... | " |
| | ~ THOUGHT berating Oddity during season 10. | |
| | | |
| --- | --- | --- |
| " | Now then... Where are they? | " |
| | ~ THOUGHT at the end of episode 9 of season 10. | |
| | | |
| --- | --- | --- |
| " | Ugh, where are those f*ckers? I've been waiting for the right moment for this, and it's just boring waiting for them. | " |
| | ~ THOUGHT losing his patience, showing his eagerness of wanting to kill Smith and his group. | |
"
Ohoho!... You, sir, have just unleashed a newer chaos onto this world...
"
~ THOUGHT observing Smith (now as the Sanctum) while secretively gaslighting him for

their

arrival.
Adrenaline For a God:
| | | |
| --- | --- | --- |
| " | You know... I once had a friend like you. The type of friend that never complied with anything you would order him to do. He would do lots of stuff to you, to the point that you just... Feel like you wanna kill him, y'know? Anyways, I got so fustrated, in fact, that I murdered him dead on the spot. And that... Will be exactly what will happen to you if you fail to listen. Do we have a deal or not? | " |
| | ~ THOUGHT threatening "Greed" in the earliest version of Adrenaline For a God, whilst lying about an "annoying" friend. | |
List of victims
List of THOUGHT's victims
Bruce Wayward - Killed by an overTHOUGHT Bart Montgomery
Susan Carol - Mutilated by an overTHOUGHT Bart Montgomery (Revived)
Several animals - Tortured and organs carved out by an overTHOUGHT Bart Montgomery
Bart Montgomery - overTHOUGHT several times
Jason Hemwig - Attempted
Smith Jones - Attempted
Smith's baby brother - Heavily mutilated & devoured by an overTHOUGHT Bart Montgomery
Several unnamed victims - Tortured by an overTHOUGHT Bart Montgomery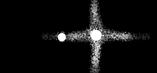 Theories
He may be HABIT's counterpart, though this was already debunked by SleepingGuy whom stated that he is the mind of HABIT instead.
He could serve as Bart's dark reflection.
One of his depictions of his real form could very well be his real form. Though it was never confirmed which one.
Gallery
Trivia
Being the mind of HABIT, THOUGHT is perhaps the most powerful being in SleepingGuy's Slenderverse. The only supernatural being believed to be "above" THOUGHT is the Slenderman himself. Though the most powerful would go to Geminald.
THOUGHT and HABIT are both heavily inspired by HABIT from EverymanHYBRID.

On a part of being inspired by him, THOUGHT also shares similar traits to EverymanHYBRID's HABIT.

THOUGHT is the first villain created by SleepingGuy for a Slenderverse series.
THOUGHT shares some similarities with Jake Johnson, as both are sadistic and bloodthirsty beings who seek to cause harm onto anyone they meet.
It is highly possible that THOUGHT has a superiority complex.

Even if it was temporiarly, THOUGHT was also the first ever being to kill the Slenderman, thus making him the first to betray and kill the central antagonist of SleepingGuy's slenderverse.

Some of his equipment in his "torture chamber" implies that he may be a perverted rapist.
THOUGHT's primary host, Bart Montgomery, is unintentionally named after the ROBLOX myth Bart_Montgomery, who is associated with Ipirix.
So far, THOUGHT remains the first (if not the only) antagonist to make the most appearances in Rememberence.
When reminded about THOUGHT's laughability, the creator simply thinks of his inspiration's laughability.
THOUGHT had killed off Jason Hemwig the most ammount of times in the series so far, as Jason had died once to Frank, twice offscreen to Slenderman, and three times to THOUGHT, with the other death happening by suicide-bombing Slenderman.
The creator has stated that THOUGHT, in his real form, has no canonical age, and his age is meant to be for interpritation. However, judging by the stark contrast in between the voices of Bart and THOUGHT, it is implied that the latter is 21-23.
THOUGHT and Delnos are canonically friends/allies after an agreement between the creator and JacobKyleF, the creator of said character. The creator had described the dynamic between the two as "favouring one another because they're sadistic" and more like ally friends.
External Links

Featured Villains


| | | | |
| --- | --- | --- | --- |
| | September | October | November |
January

March

August

December


February

April

May

June

July

August

October

November

December


| | | | | | |
| --- | --- | --- | --- | --- | --- |
| January | February | March | April | May | June |
| July | August | September | October | November | December |
| | | | | | |
| --- | --- | --- | --- | --- | --- |
| January | February | March | April | May | June |
| July | August | September | October | November | December |